LAP-BAND (Gastric Banding) & Adjustments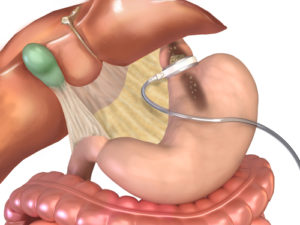 During the LAP-BAND® procedure, a hollow, adjustable, silicone band is placed around the upper part of the stomach by Dr. Chang. Without cutting the stomach or small intestine, the stomach is divided into two parts by the placement and tightening of the band. Doing so creates a smaller upper part and a larger lower part, which, in turn, allows for an adjustable opening between the two chambers. The band is connected to a port, placed under the skin, allowing for fluid to be added to and removed from the band to tighten or loosen the band respectively. Patients usually spend one day in the hospital and resume normal activity within one to two weeks.

Gastric Band Revisions
Because the gastric band does not permanently alter the digestive system, there are cases where it does not offer the patient the weight loss results they expect. Further, since the device is implanted in the abdomen, there is a greater chance of long-term complications versus the gastric bypass or gastric sleeve. The band can slip from its original position or erode into the esophageal lining amongst other possible complications. Most of these complications require a follow-up surgery to correct the issue.
Dr. Chang offers a number of revisional bariatric surgeries for banding patients that have not achieved their excess body weight loss potential. First, the band can be removed and a gastric sleeve can be performed. This is called a band to sleeve conversion and can jumpstart the patient's weight loss, offering even greater results and disease resolution potential than the original band surgery.
Second, the band can also be revised to a gastric bypass in much the same way as above. If patients have not experienced an improvement in diabetes or acid reflux (or if they have seen either condition worsen), replacing the band with a gastric bypass can be an excellent and effective option.
Since the band does not require the alteration of any part of the digestive system, revising it is very straightforward. The band is removed and if a conversion is desired the secondary surgery is typically performed during the same surgery.
Considerations of a Band Conversion
While converting a gastric band is relatively safe in the hands of an experience surgeon such as Dr. Chang, all of the inherent risks of bariatric surgery, as well as a few additional risks specific to a revisional bariatric procedure, must be taken into account. While a gastric band conversion is often a very positive step forward in the battle against obesity, the risks and considerations of this procedure should and will be discussed at a consultation.
To learn more about a conversion from gastric band to either a bypass or sleeve, please contact our office to schedule a consultation with Dr. Chang in either Victoria, Texas or at our Corpus Christi, Texas location.